Performing at the specifications required by U.S. Government entities such as the Corps of Engineers, Denver's line of pneumatic vibrators are ideal for mass concrete pours where continuous operation is required. Their simple motor-in-head construction eliminates heat issues by keeping the head cool while their bearingless design make the vibrators virtually maintenance-free. Hard hitting and engineered for a long life, Denver's pneumatic series of internal c

oncrete vibrators are well suited for locks and dams, spillways, structural bearing walls, piers, roller-compacted concrete applications and more.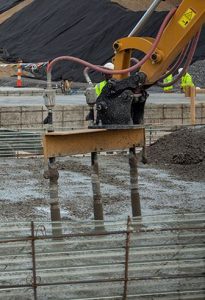 The A250, A300, A350 and A450 models are available with a rubber handling hose in lengths from 4 feet to 100 feet. The A300, A350 and A450 models are also available with a 2 foot long steel handle. The A600S is available with a steel handle only. The steel handle models may be used to the depth of the exhaust ports (approximately 3 feet). Denver also offers the A250, A300 and A350 with rubber-coated heads for use with epoxy-coated rebar. Please note that the rubber coating will add a ½ inch to the head diameter listed below. All pneumatic vibrators come with an inline oiler, throttle valve, air strainer and quick connect fitting. The steel handle models will include a 10 foot tail hose.
Pneumatic Vibrator Performance Data
Model
Head Diameter
Head Length
Head Weight
Diameter of Effect*
Vibrations per
Minute
Centrifugal
Force
1/2 Wave
Amplitude
Air Use at
90 PSI
A250

2.5"
10"
8 lbs
20" to 30"
10,000
736 lbs
0.04"
60 cfm
A300
3.0"
13"
15 lbs
24" to 36"

9,000
1,294 lbs
0.06"
110 cfm
A350
3.5"
13"
20 lbs
29" to 42"
9,000
1,830 lbs
0.045"
115 cfm
A450
4.75"
17"
39 lbs
38" to 54"
8,000
2,454 lbs
0.04"
175 cfm
A600S
6.2"
19"
60 lbs
50" to 72"
7,000
3,380 lbs
0.045"
190 cfm
*The diameter of effect varies with wetness of the pour. The lower number is based upon a 2 to 4 inch slump.